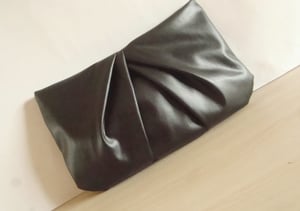 $

45.00
Vegan Leather Clutch Black Pleated Zippered.This leather clutch with a pleated front in black is the right choice for all veg & vegans.The clutch closes with a recessed zipper,very professional.
The zippered vegan clutch is very carefully stitched with reinforced seams and along with the durable material, this will be your favorite clutch!
The clutch has a beautiful sun ray pleated design in the front.The pleats on top are not regular pleats,if you notice they are overlapping in layers,fanning out like rays of sun,its made with lot of precision & technique.
The fabric is faux leather with a beautiful grain,the quality is extremely good.
The clutch is fully lined in cotton in limestone.
Just right for the upcoming holiday parties ,weddings & evenings out!
Also available in
Brown
Tangerine
Ice Blue
Plaid
Fiery Red
*********************************************************************************************************
The dimensions are
11.5"(29.5cm) wide at the bottom
11"(28.5cm) wide at the top
6.5"(17cm) high
This is a MADE TO ORDER bag ,& it ships 2 days after the payment is cleared
All my purses are made with complete attention to detail and have high quality of craftsmanship.They are 100% handmade by me in my home.